Masterclass Wine List
Wine 1.1: Ferrari Perlé 2015
Trento DOC | 12.5% Abv | 100%

Chardonnay

Distributed by: EMW |  emw-

wines.com

Retail price:

HK$350/btl,

Special Price: contact MWM Wine School
Wine 1.2: Oro Rosso Rosé
Trento DOC | 12.5% Abv | RS 6 g/l | Chardonnay & Pinot

Noir

Distributed by: Deco Wines |

 

decowines.com

Special Price:

HK$238/btl
Wine 1.3: Vigne Olcru Brut Rose Victoria 2014
Oltrepò Pavese Metodo Classico DOCG | 12.5% Abv | Zero Dosage | 100% Pinot

Noir

Distributed by: Maxwine Ltd. |  

maxwine.com.hk

Retail Price:

HK$880/btl
Wine 2.1: Les Crêtes Chardonnay 2020
Valle d'Aosta DOC | 13.5% Abv | 100%

Chardonnay

Distributed by: Sino Vantage | Herve Leroux – E:

herve.ler

oux@sinovantagewines.com

Retail Price:

HK$290/btl
Wine 2.2: Monsanto Fabrizio Bianchi Chardonnay 2019
Toscana IGT | 14% Abv | 100%

Chardonnay

Distributed by: Certa Platform |

certaplatform.com.hk

Special Price:

HK$260/btl
Wine 2.3: Tenuta di Passopisciaro Passobianco 2018
IGT Terre Siciliane | 13.5% Abv | 100%

Chardonnay

Distributed by: Corney & Barrow | corneyandbarrow.com
Retail Price:

HK$290/btl
Wine 2.4: Planeta Chardonnay 2020
Menfi DOC | 13.5% Abv | 100%

Chardonnay

Distributed by: EMW | emw-

wines.com

Retail Price: HK$350/btl; Special Price:

contact MWM Wine School
Wine 2.5: Kettmeir Muller Thurgau Athesis 2018
Alto Adige DOC | 13% Abv | 100% Muller

Thurgau

Distributed by: Brightview |

brightview.com.hk

Retail Price:

HK$261/btl
Wine 2.6: Ronco Del Gelso Pinot Grigio Sot Lis Rivis Isonzo 2019
Friuli Isonzo DOC

 

| 13.5% Abv | 100% Pinot

Grigio

Distributed by: Amorosso Fine Wines |

amorossowines.com

(Please contact the distributor for the price)
Wine 2.7: Livio Felluga Sauvignon Colli Orentali del Friuli 2014
Friuli Colli Orentali DOC | 13% Abv | 100% Sauvignon

Blanc

Distributed by: Summergate | summergate.com
Retail Price:

HK$165/btl
Wine 2.8: Michele Satta Viognier "Giovin Re" 2016
Toscana IGT

 

| 13.5% Abv | 100%

Viognier

Distributed by: BrightView |

brightview.com.hk

Retail Price:

HK$435/btl
Wine 3.1: Hartmann Dona Pinot Nero 2018
Südtirol-Alto Adige DOC | 12.5% Abv | 100% Pinot

Noir

Distributed by: T&A |

tencellars.hk

Retail Price:

HK$230/btl;

Special Price:

contact MWM Wine School
Wine 3.2: Vigne Olcru Enigma Nero 2019
Distributed by: Maxwine Ltd. |

maxwine.com.hk

Retail Price:

HK$580/btl
Wine 3.3: Fontodi Case Via Pinot Nero 2018
Colli Toscana Centrale IGT | 13% Abv | 100% Pinot

Nero

Distributed by: BrightView |

brightview.com.hk

Retail Price:

HK$388/btl
Wine 3.4: Castello della Sala Pinot Nero 2018
Umbria IGT | 14% Abv | 100% Pinot

Nero

Distributed by: Links Concept |

linksconcept.com

Special Price:

HK$465/btl
Wine 3.5: La Roncaia Fusco Merlot 2016
Friuli Colli Orientali DOC | 14.5% Abv | 100%

Merlot

Distributed by: Amorosso Fine Wines |

amorossowines.com

(Please contact the distributor for the price)
Wine 3.6: Il Colle Come Se 2008
Tuscana IGT | 15% Abv | 100%

Merlot

Distributed by: T&A |

tencellars.hk

Retail Price:

HK$310/btl;

Special Price:

contact MWM Wine School
Wine 3.7: Livio Felluga Vertigo 2018
IGT Rosso Trevenezie | 13% Abv | 70% Merlot, 30% Cabernet

Sauvignon

Distributed by: Summergate | summergate.com
Retail Price:

HK$155/btl
Wine 3.8: Musso Serafino Riserva Breganze 2008
Breganze Rosso DOC

 

| 14% Abv | 80% Merlot, 20% Marzemino

Nero

Distributed by: Deco Wines |

decowines.com

Special Price:

HK$350/btl
Wine 3.9: Inama Colli Berici Carminium 2017
Colli Berici DOC | 14% Abv | 100%

Carmenere

Distributed by: Sino Vantage | Herve Leroux – E:

herve.ler

oux@sinovantagewines.com

Retail Price:

HK$330/btl
Wine 3.10: Vigna Traverso Cabernet Franc 2016
Friuli Colli Orentali DOC | 14.5 % | 100% Cabernet

Franc

Distributed by: BrightView |

brightview.com.hk

Retail Price:

HK$173/btl
Wine 3.11: Tenuta di Trinoro Campo di Magnacosta 2017
Toscana Rosso IGT | 15% Abv | 100% Cabernet Franc (Pomerol

cuttings)

Distributed by: Corney & Barrow | corneyandbarrow.com
Retail Price:

HK$610/btl
Wine 3.12: FATTORIA CARPINETA FONTALPINO DO UT DES 2016
Toscana IGT | 13.5% Abv | Cabernet Sauvignon, Merlot and Petit

Verdot

Distributed by: Certa Platform |

certaplatform.com.hk

Special Price:

HK$415/btl
Wine 3.13: Guado al Tasso Bolgheri Superiore 2018
Bolgheri Rosso Superiore DOC | 14.5% Abv | Cabernet Franc, Cabernet Sauvignon,

Merlot

Distributed by: Links Concept |

linksconcept.com

Special Price:

HK$1270/btl
Wine 3.14: Montevetrano 2013
Colli di Salerno IGT | 13.5% | Cabernet Sauvignon, Aglianico,

Merlot

Distributed by: T&A |

tencellars.hk

Retail Price:

510/btl;

Special Price:

contact MWM Wine School
Wine 3.15: Tasca Vigna San Francesco Cabernet Sauvignon 2017
Sicilia DOC | 15% Abv | 100% Cabernet

Sauvignon

Distributed by: Watson's Wine |

watsonswine.com

Retail Price:

HK$438/btl
Wine 3.16: STEFANO AMERIGHI SYRAH APICE 2016
Toscana IGT | 13.5% Abv | 100%

Syrah

Distributed by: Certa Platform |

certaplatform.com.hk

Special Price:

HK$558/btl
Wine 3.17: SALLIER DE LA TOUR LA MONACA 2018
Monreale DOC | 15% Abv | 100%

Syrah

Distributed by: Certa Platform |

certaplatform.com.hk

Special Price:

HK$287/btl
Wine 3.18: TURRIGA ISOLA DEI NURAGHI ROSSO 2017
Isola dei Nuraghi IGT | 14.5% | 5% Bovale, 85% Cannonau, 5%

Carignano,

Distributed by: Watson's Wine |

watsonswine.com

Retail Price:

HK$748/btl
Italy is most famous for wines made from its indigenous grapes. There are more than 500 nationally registered native grapes. However, the role of non-indigenous (international and traditional) grape varieties in production of great Italian wines should not be overlooked at all. The Super Tuscan is one of the best examples on how Italian wines made from international grapes such as Cabernet Sauvignon, Cabernet Franc and Merlot can achieve the same high-quality standards as those produced from their home country – France. There are also great examples of local wines made from Pinot Nero (Pinot Noir), Syrah, Chardonnay, Pinot Grigio (Pinot Gris) and so on that you may find in different parts of Italy. In certain regions, some of these grapes are considered as traditional rather than international as they have been introduced to and grown on the local soils for hundreds of years like Merlot in Friuli and Cannonau (Grenache) and Carignano (Carignan) in Sardinia.
In this comprehensive three-hour masterclass, our renowned Italian wine educator – Justin Chen DipWSET, IWA, IWS will guide the participants to taste 29 top-level Italian wines (a new record for our masterclass at this school!) made from international or traditional varieties across the country (from the northernmost region of Valle d'Aosta to the southernmost territory of Sicily) and discuss the relevant cultural and terroir influences that make these wines to have their own unique styles and characteristics, the "Italian twist".  This is certainly an eye-opening journey for wine lovers at various levels and a Don't Miss opportunity for any Italian wine lovers.
Here are highlights of some of the wines to be tasted:
Ferrari Perl Trento, Ronco Del Gelso Pinot Grigio Sot Lis Rivis Isonzo, Kettmeir Muller Thurgau Athesis, Michele Satta Viognier "Giovin Re", Les Cretes Chardonnay, Castello della Sala Pinot Nero, Fontodi Case Via Pinot Nero, Musso Serafino Riserva Breganze, Il Colle Come Se, Campo di Magnacosta Tenuta di Trinoro, Stefano Amerighi Syrah Apice, Fattoria Carpineta Fontalpino Do Ut Des Supertuscan, Guado al Tasso Bolgheri Superiore, Montevetrano and Turriga Isola Dei Nuraghi Rosso.  
We sincerely look forward to your support and participation in this great event, our first in-person wine masterclass after the fifth wave of the Covid pandemic. Say goodbye to Zoom and see you at our lovely school!
About Justin Chen: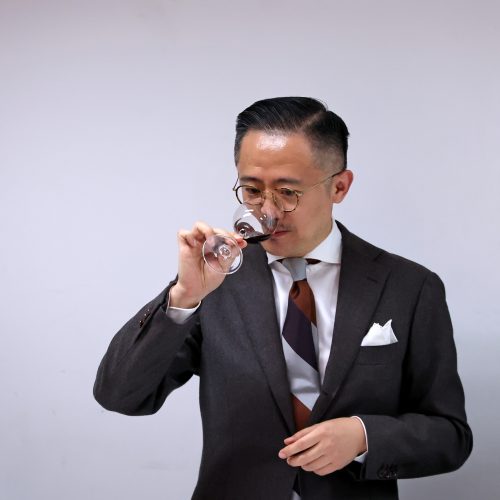 Justin is a wine educator at MWM Wine School in Hong Kong. He founded Joy Palate Wine Academy in 2014 and had been the wine educator and wine consultant between Hong Kong and Guangzhou for the academy previously.
Justin has a wide range of wine-related qualifications, including DipWSET, WSET Certified Educator, Knight of Truffle and Wine of Alba, and was awarded a Runner-up at the Hong Kong International Top Tasters Competition by The Drinks Business in 2016.