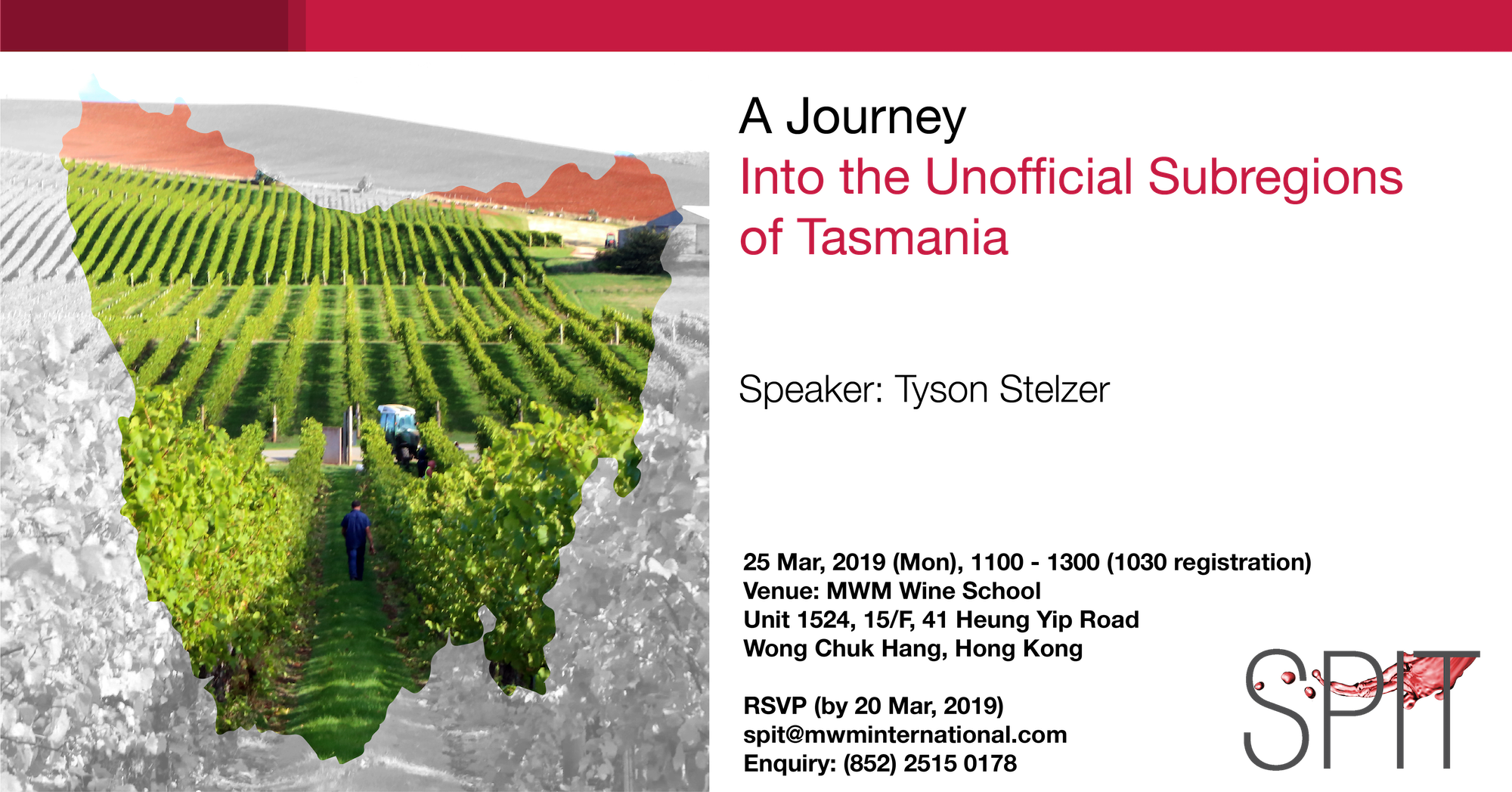 Date
25 March 2019 (Monday)
Time
11:00-13:00 (10:30 registration)
Venue
MWM Wine School
Unit 1524, 15/F, 41 Heung Yip Road, Wong Chuk Hang, Hong Kong
MTR Exit B, 5-min Walk
(See Google Map here)

Speaker
Tyson Stelzer
Capacity
40 Pax *Limited seats.
Registration on first-come, first-served basis
RSVP
email to spit@mwminternational.com / or fill in the form here
WineSPIT member Complimentary  | Non member HK$400
(Contact us if you are interested to join/renew WineSPIT membership)
You are invited to join one of the most controversial conversations in Australian wine this year.
We don't much speak of the subregions of Tasmania. This is because, strictly speaking, there aren't any. According to the official Australian Geographical Indications, Tasmania is just one region. However, Tasmania has seven unofficial wine 'zones,' each of which has their own distinctive terroir and unique wine character.
The big debate in Australia's island state right now is whether to register its distinct zones as official subregions. Some makers are vocally campaigning for this, while others are adamant that Tasmania should never be subdivided.
This masterclass is your opportunity to judge for yourself, by tasting wines from the leading producers across Tasmania's different zones. Multi-award-winning wine communicator, Tasmanian born Tyson Stelzer has selected ten highlights from his favourite Tasmanian estates to guide you on a journey around the region's flagship wine styles of sparkling and pinot noir.
WINE LINEUP
SPARKLING
Bellebonne Vintage Rosé 2016 – Piper's River
Frogmore Creek Sparkling Cuvée 2016 – Coal River Valley
Pirie Vintage 2012 – Tamar Valley
House of Arras Blanc de Blancs 2008 – Blend of Derwent Valley, Freycinet, Coal River Valley and Piper's River
PINOT NOIR

About Tyson
TYSON STELZER is a multi-award winning wine writer, television host and producer, author of 16 wine books, international keynote speaker and wine show chairman and judge.
Born in Hobart, Tasmania, Tyson is the host of the annual Effervescence Tasmania celebration, the Sparkling Saffire and Saffire Pinot Noir Weekends, the host and co-producer of the television series People of the Vines Tasmania and writes extensively on Tasmanian wine in his annual Australian Sparkling Report and Wine Business Magazine.
An accomplished presenter, Tyson has 14 years experience presenting at international events in 12 countries. His dynamic and informal approach encourages interaction, making wine enjoyable and unpretentious. He was named International Wine & Spirit Communicator of the Year and twice Australian Wine Communicator of the Year.