Note:
MWM ensures all events being conducted in the highest standards of professionalism, quality and punctuality. However, due to unforeseeable circumstances, we might adjust our events to ensure they are delivered safely without severe interruption to participants' plan. During lockdown, such measures may include changing a face to face session to online session, or rescheduling the session to after lockdown. You may refer to here about our working procedures. We look forward to your kind understanding. Thank you!

Etna Contrada Wine Masterclass II – Exploring the dynamic and diversified wine scene of Mt. Etna
16th September 2021 @ 7:00 pm

-

10:00 pm

$880.00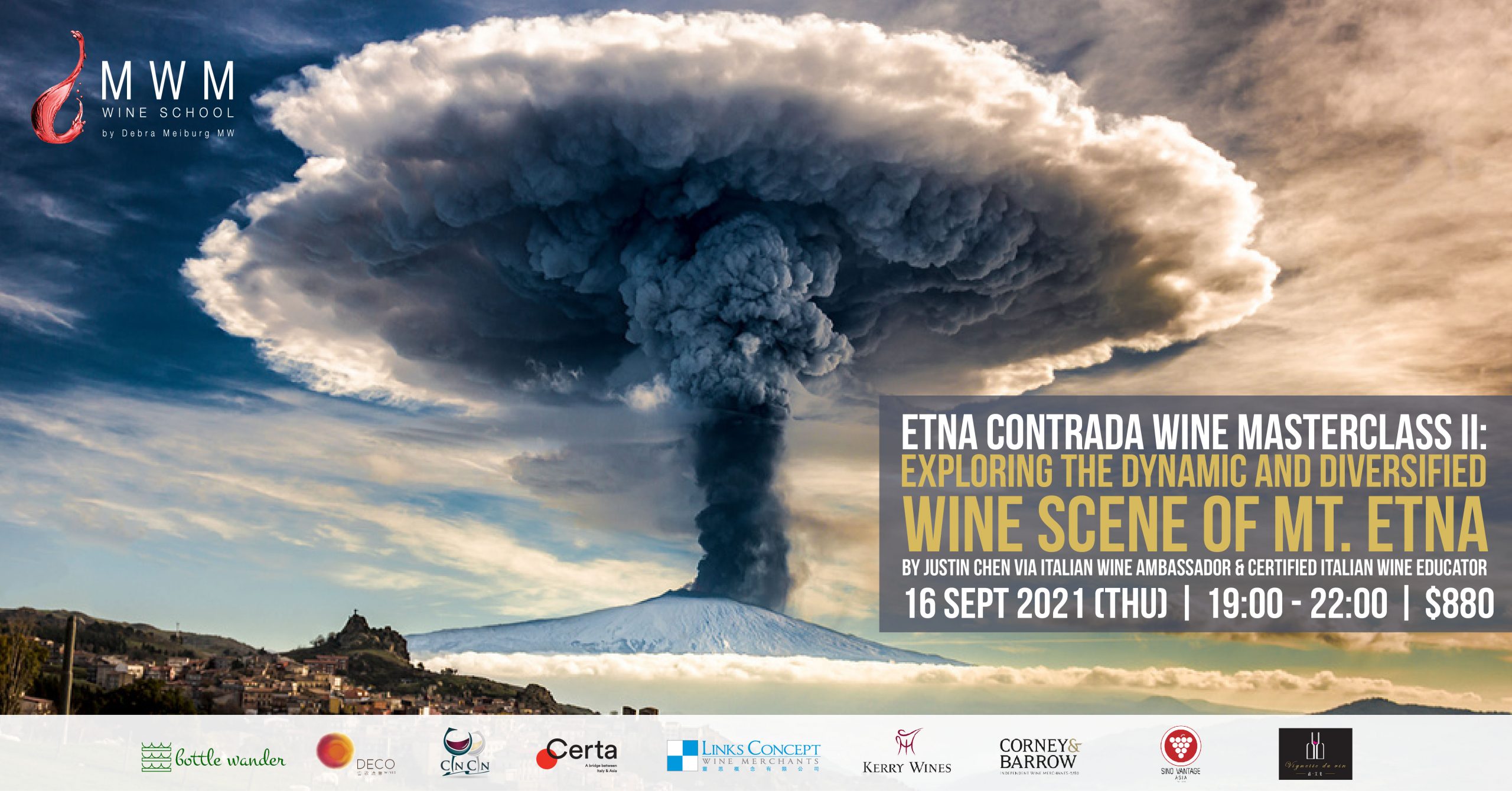 As you may be aware, our VIA Italian Wine Ambassador and Certified Italian Wine Educator – Justin Chen hosted a very successful masterclass – ETNA ERUPTION: UNCOVERING THE COVETED CONTRADA OF ETNA "THE BURGUNDY OF THE MEDITERRANEAN" one year ago. In fact, the interest and demand for Etna wines has grown significantly in Hong Kong over recent years and now we have more wine merchants offering an increased number of Etna contrada (the local equivalent of "single vineyard" or "cru") wines in this market. So it is the right time to have our second masterclass on Etna contrada wine to offer wine lovers the opportunity to taste 20 great wines (we are pushing our limit again!) from 19 different contrade located on northern, eastern and southern slopes of Mt. Etna.
While keeping some of our favorites wineries like Passopisciaro – Vini Franchetti, Tascante on our tasting list, this time we are trying to introduce a more diversified portfolio including historic wineries like Barone di Villagrande, Benanti and Calabretta, the inventor of the concept of "Burgundy of the Mediterranean" – Tenuta delle Terre Nere, the leading Sicilian winery – Donnafugata and the great guardian of Etna's terroir and viticulture tradition – I Custodi. Of course, we won't forget the pride of Hong Kong – Stef Yim's Sciara for his amazing high altitude wines from vineyards up to 1200 meters!
In this 3 hours in-depth masterclass, Justin will guide you to explore the diversified terroirs (microclimate, altitude, and exposure and soil composition) of each contrada and discuss on the different winemaking and style of each producer. We trust many Italian wine lovers have joined Justin's masterclasses/workshops before and the quality of teaching and selection of wines does not need any further introduction. What you need is to act quickly as this is going to be a super popular event for sure!