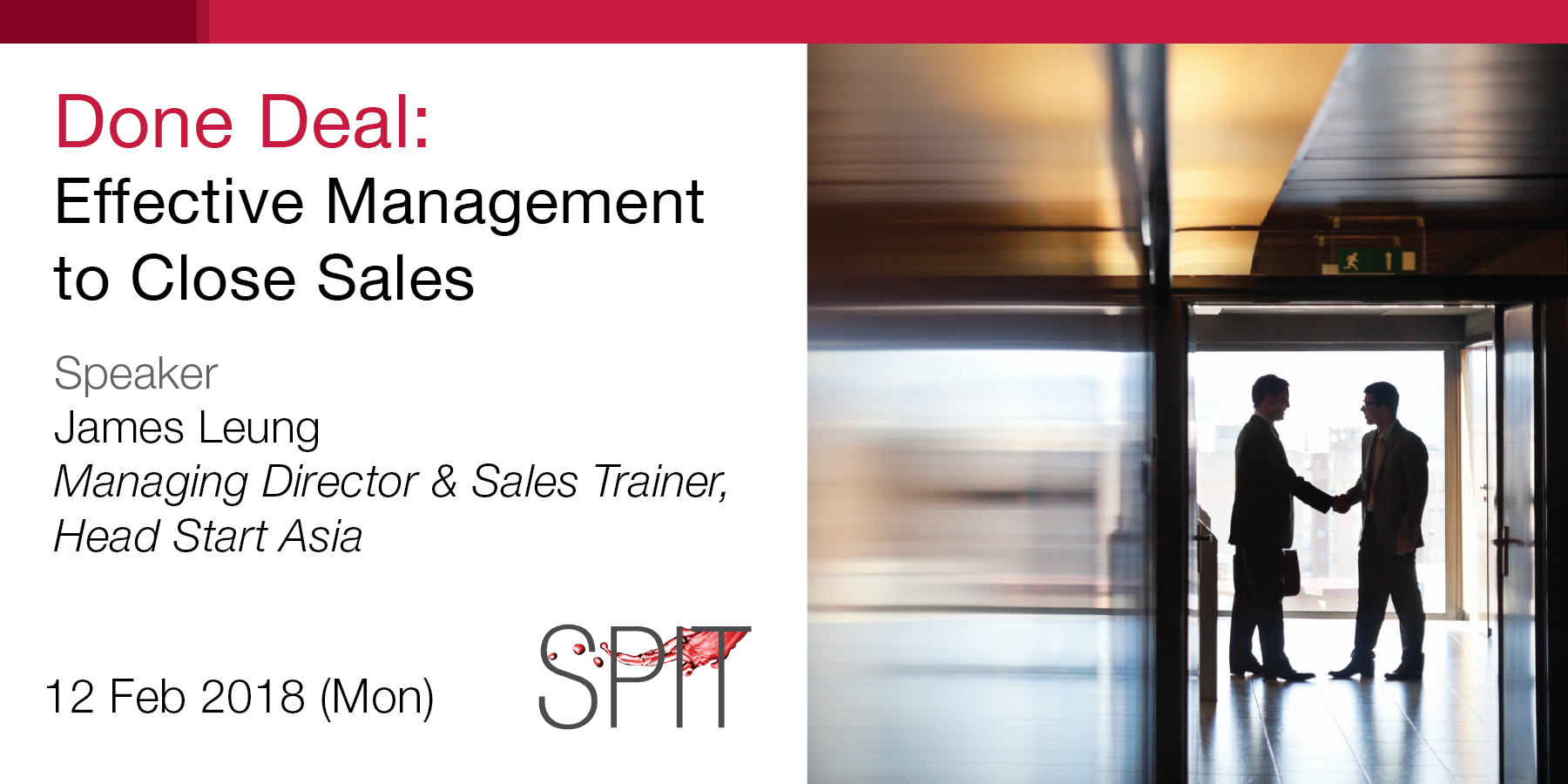 Set the Scene: Sales' Stage Management for Easy Closures
Who enjoys the final "struggle" to close a sale? Not many people! But with strategic management of each stage of the sales process, closing the deal is no longer a struggle.
Learn how to reach that "happy place" of easy closure at SPIT's Done Deal: Effective Management to Close Sales workshop. James will introduce a systematic stage-based sales method, using real world examples, group workshopping and role play.
A not-to-be-missed workshop for sales teams of all levels!
Workshop info
Date  12 February 2018 (Monday)
Time 2:30pm-4:30pm (2pm registration)
Venue MWM Wine School, Unit 1524, 15/F, 41 Heung Yip Road, Wong Chuk Hang, Hong Kong
Capacity 35 Pax *Registration on first-come, first-served basic
RSVP email to spit@mwminternational.com / or fill in the form here
WineSPIT member Complimentary | Non-WineSPIT HK$390 (Contact us if you are interested to join/renew WineSPIT membership)
SPEAKER
James Leung, Managing Director & Sales Trainer, Head Start Asia
Born in Hong Kong and raised in the UK – James started his career in IT before transitioning to management and into a career in recruitment. He completed a BSC in Mathematics and Management at Loughborough University and stayed on to complete a MSC in Information Technology.
His recruitment career started in the UK where he managed a team recruiting aviation professionals (primarily pilots and cabin crew) for internationally-based roles. He then moved to Hong Kong and joined a large UK-listed international recruitment business within their property and construction team. After being promoted to Associate Director, James was also given the responsibility of leading two teams of consultants. His role included leading, driving, recruiting, training and retaining the top talent in Hong Kong to achieve exceptional sales results.
James founded Head Start Asia to provide sales training courses for individuals and corporate clients in Hong Kong.