By Debra Meiburg MW
There are too few occasions in life when the old adage "better late than never" holds any weight:  walking up the aisle, the delivery room, a glass of Port.  In 1834 Manoel Pedro Guimarens, owner of the famed Port brand Fonseca, left his political escape a touch late, fleeing Portugal hidden inside an empty port barrel in shipment to England.  Lateness is so fashionable when it comes to Port that the region produces a special wine called "Late Bottled Vintage Port" in addition to its great Vintage Port.
Prestigious Vintage Port is produced only a few times per decade when the Port houses officially "declare a vintage."  Vintage declarations occur only when the producers perceive the harvest is of superior quality—or, when they perceive a superior need to replenish their cash flow.  A Vintage Port will always display its year in large numbers on the label; and the supplier will always display its price in large numbers on the shelf.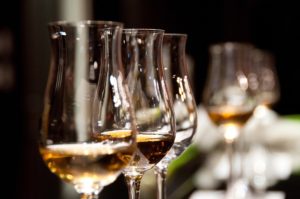 In its youth, Vintage Port is tannic, fiery and disjointed.  This ugly duckling needs at least fifteen to twenty years' maturation before its transformation to one of the world's greatest wines.  After lazing around the cellar a couple of decades, Vintage Port will be chock-full of sediment, so be prepared to decant the wine before pouring.  Before decanting, leave the bottle upright a few hours, if not days, before opening to let the sediment settle in the base of the bottle.  With as little movement as possible, gently remove the cork and slowly pour the port into a decanter or a very clean pitcher.  As soon as little flecks of sediment appear in the liquid, stop pouring.  About an inch or so of wine should be left in the bottle.  The wine can be served directly from the decanter or simply rinse the bottle and pour the Port back into its original container for serving.
If like the little white rabbit in Alice in Wonderland, you find yourself chanting, "I'm late, I'm late, for a very important date" then opt for the less fussy LBV. In spite of its tardy name, LBV matures more quickly than Vintage Port therefore developing far less sediment and pre-empting the need to decant.  While LBV lacks the intensely concentrated fruit of Vintage Port, it is a much softer, gentler wine in its youth.  Perhaps, like my ever-youthful friend Audrey, it is because LBV is unabashedly relaxed about its lateness label.
Some Port aficionados prefer to serve Port in thimble sized glasses, whereas other fans argue it should be served in bowl-shaped red wine glasses.  Either way, with its lush sweetness and warm alcohol (19-22%), this is an after-dinner wine to be sipped slowly.  Relax and allow plenty of time to enjoy the wine—once opened it lasts weeks, so have no worries about being late.