Julia Charlton, Bonnie Chan-Woo and Elaine Tsung Announced 2018 Finalists of the Award
The finalists of the 2018 Veuve Clicquot Business Woman Award Hong Kong have been announced, with three women from very different sectors and backgrounds in the running for the title. Following a detailed nomination, consultation and interview process with the esteemed Jury, Veuve Clicquot announced Julia Charlton (Charltons), Bonnie Chan-Woo (Icicle Group) and Elaine Tsung (Garage Society) as the three finalists for 2018. The winner will be announced on 18 October at the Award Ceremony in Hong Kong.
Created in 1972 in France as a tribute to Madame Clicquot, the Veuve Clicquot Business Woman Award celebrates entrepreneurial women who have made a significant contribution to the business world. The Hong Kong Award was launched at Hong Kong's Women of Wine Festival (WoW) in March this year.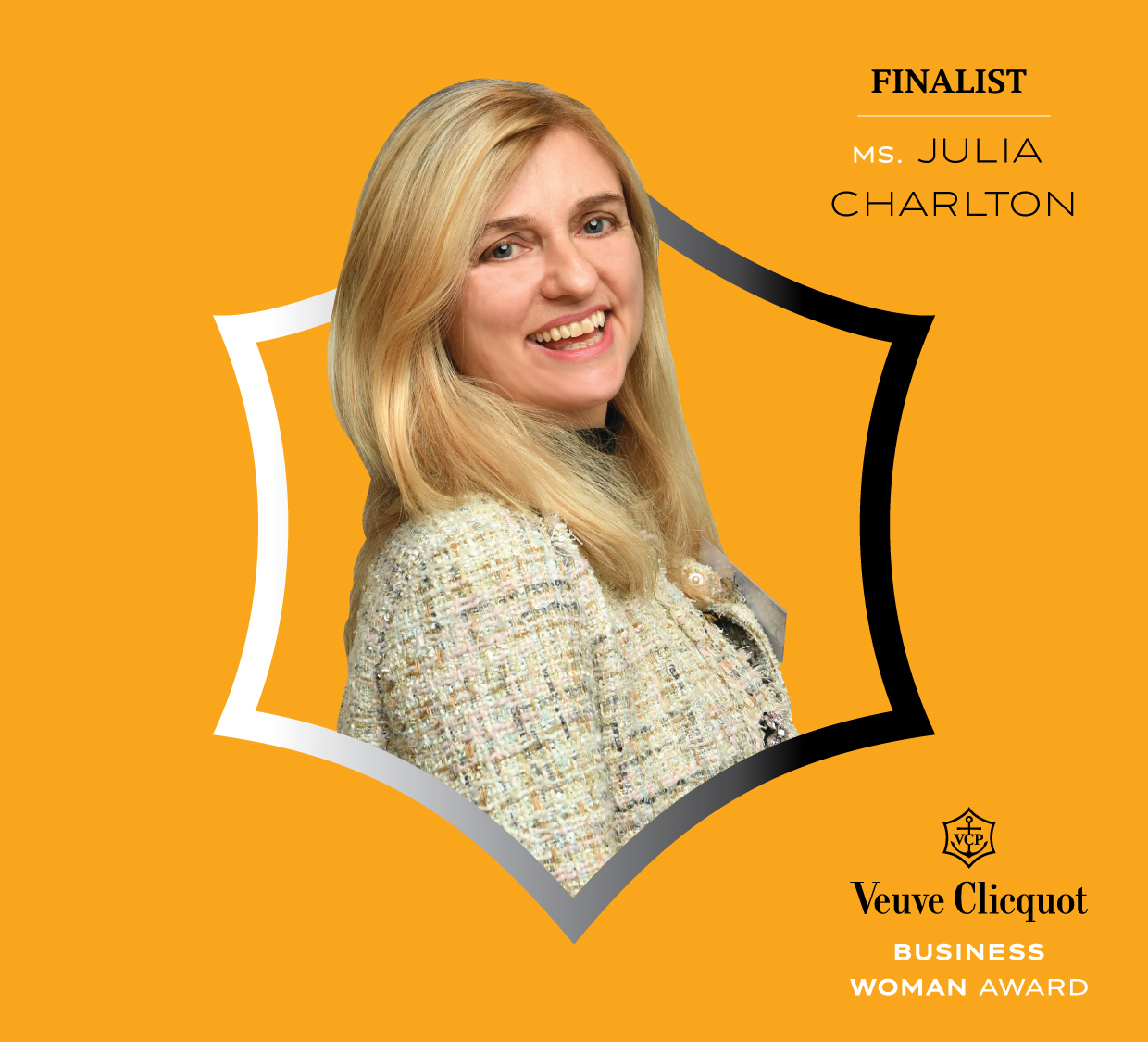 Julia Charlton
Founder, Senior & Managing Partner and Principal of Charltons
With extensive experience in corporate finance, including capital markets, mergers and acquisitions, private equity investment, securities law, derivatives, funds and restructuring and regulatory issues Julia founded Chaltons in 1998. It is now one of the most highly acclaimed boutique firms in Hong Kong.
Julia is a Mandarin speaker and vastly experienced in private equity investment in the PRC, advising European, US and Hong Kong based funds on investment in a range of sectors. As a corporate finance lawyer, she advises both issuers and underwriters on listings by Chinese and overseas companies on the Hong Kong, Shanghai and London Stock Exchanges.
The Jury acknowledged Julia's demonstration of the core values of the Business Woman Award, in being fearless working in a traditionally male-dominated sector, and as a role model for professional women striving to reach the top. Julia has been named a "Leading Lawyer" annually by Asia Law & Practice for from 2002 to 2018. She was named the Hong Kong American Chamber of Commerce Women of Influence: Professional of the Year 2008.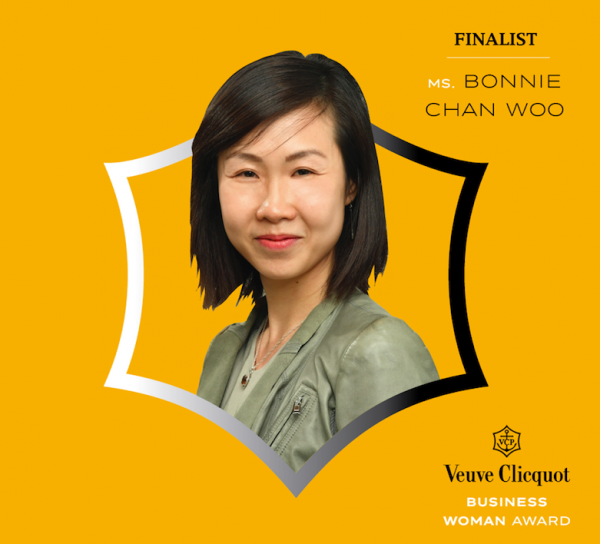 Bonnie Chan-Woo
Chairperson & CEO of Icicle Group Holdings Limited ("Icicle Group")
As the leader of both Icicle and Studio SV, Bonnie embraces the motto "leading positive change in a dynamic world".
The Jury members acknowledged Bonnie's entrepreneurial spirit and innovation in transforming a traditional printing business into a leading cross-media marketing and creative production company, with offices in Hong Kong, Beijing and Manila and publicly traded on GEM of the Stock Exchange of Hong Kong. Under Bonnie's leadership, Icicle Group services over 250 brands, utilising the latest technology and the continuous development of creative talents, combined with best-in-class production and strategic thinking to see brands achieve transformative results.
With a passion for storytelling, especially in a cross-cultural context, Bonnie co-founded Studio SV Limited in 2017 with Grammy-winning hip hop artist, Lupe Fiasco. The studio produces original content bridging cultures, with a debut episodic series "BEAT N PATH" globally distributed in 15 countries.
Bonnie actively contributes to the creative industry, the arts and culture community and the education sector through her advisory roles and directorships in various Hong Kong government bureaus.
Elaine Tsung
Founder & CEO of Garage Society
As a serial entrepreneur, Elaine is the founding director of Hong Kong's first co-working space The Hive, and the Founder & CEO of Garage Society, a work platform for the new generation. Founded in 2014, Garage Society offers premium co-working spaces, a digital members' portal, knowledge-sharing events, recruitment and investment support; curating a community for international start-ups, creatives, freelancers and digital nomads as well as innovative corporates from around the world.
The Jury recognised Elaine's entrepreneurial spirit and her audacity in identifying a gap the market and bringing the "co-work" concept into Hong Kong. An entrepreneurial spirit and audacity are highly-valued qualities of the Veuve Clicquot Business Woman Award.
Elaine began her career in multinational corporations as an investment banker. She founded European Gourmet Ltd. in 2000, a premium confectionery import company which has grown to become one of the biggest premium confectionery distributors in Greater China. In 2010, she co-founded the Hive, the first co-working spaces in Hong Kong. In 2014, she founded Garage Society, which has now become a leader in the sector in Asia. Garage Society currently has eight locations throughout Asia with further expansion plans internationally.
Veuve Clicquot said "We are thrilled to announce our finalists – three elite female entrepreneurs in Hong Kong! While from diverse sectors, they all represent the pioneering and entrepreneurial spirit of Madam Clicquot – creativity, passion, courage and determination, all of which have underpinned the tremendous success of Veuve Clicquot Champagne. We look forward to celebrating these three inspirational women and announcing the winner at the Award Ceremony in October".
The esteemed Jury for the Award is comprised of a panel of five exceptional business people, and an advisor, while the 2018 Veuve Clicquot Business Woman Award Hong Kong winner will be announced at a prestigious ceremony in W Hong Kong on 18 October 2018.